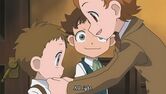 Pressoir and Jurges
are
Gavroche
's adopted "brothers"; Pressoir being the older of the two, while Jurges is the youngest. First introduced when Gavroche discovers them when they were kicked out of a bakery for lack of pay, Gavaroche takes them to a church where they are fed and clothed, and takes them under his wing. Over the course of the series, Gavroche teaches them how to live in the streets and find food for themselves, until eventually Valjean takes all three of them under his care.
They are last seen going to school with Gavroche.
Differences from the Novel
Edit
• In the novel, these two are Gavaroche's real brothers, who were also thrown out of the Thénardier household. None of them knew of the familial relationship, however. By faith, Gavaroche found and took care of them until he died at the barricade
• In the novel, the two boys are unnamed, however, in the Anime, they are given the names "Pressoir" and "Jurges"